Recording Studio
Recording Studio
The Sanford Media Center features a fully-featured recording studio where students can record vocals, voiceovers, sound effects, and musical instruments, as well as edit, mix, and master audio recordings of any kind.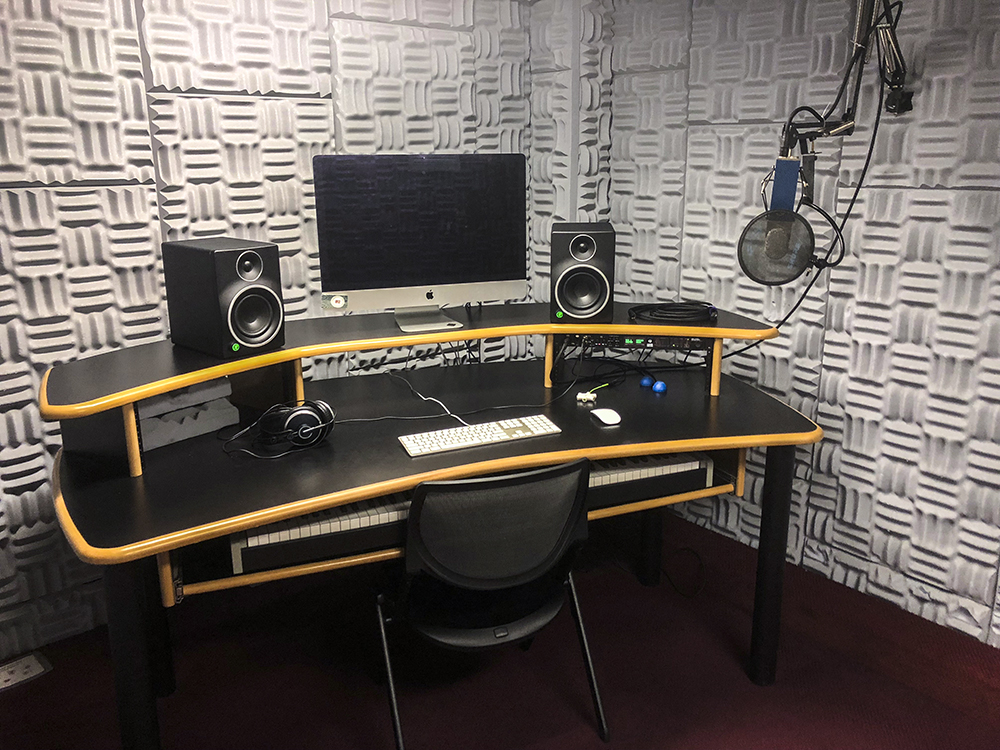 Studio Training
Before checking in to the studio the studio, you must complete Studio Training. Training is available during normal operating hours Sunday through Friday. Training sessions typically last around an hour and cover the studio's equipment, basic workflows, and the use of audio recording and editing software.
Studio Policies
The studio may only be checked out to patrons who have a completed studio training on file.
Drink containers with closed, no-spill tops are acceptable. All other types of drink containers are prohibited in the SMC. Determination of acceptable drink containers is at the discretion of the SMC staff.
No food is allowed in the Sanford Media Center, including the studio.
No horseplay.
No more than 5 users are permitted in the studio at a time.
All people in the studio must be currently enrolled students. Exceptions may be made on a case-by-case basis based on demonstrated academic need.
Your voice and recordings can be heard beyond the walls. Under certain circumstances, you may be asked to reduce the volume of your playback or performance.
If you do not show up for a reservation within 15 minutes of the start time of the reservation or contact the Sanford Media Center to cancel your reservation, your reservation will be cancelled. Repeated no-call, no-shows may result in a loss of studio reservation privileges. Under such circumstances, users will still be allowed to use the studio on a walk-in basis.
If at any time the person to whom the studio is checked-out is absent from the studio for more than 15 minutes, the reservation will end and any other occupants will be asked to leave.
The person with to whom the studio is checked out will be held responsible for any damages to the room, equipment, furniture or textured walls.
The person to whom the studio is checked out is accountable for the actions of all people present in the room while the studio is checked out to them.
All patrons must wear appropriate clothing, including a shirt and shoes.
The room is being monitored and recorded via video. Recordings from the security cameras may be used as evidence if disciplinary action and/or damage fees become necessary.
Any fines/fees assessed for damage will be billed through the University of Alabama's Student Account Services. No payment will be accepted in the SMC or the Libraries.
Policy violations will be documented. Depending on the severity and frequency of the violations, you may be suspended from using the recording studio.