3D Print
3D Print
How to print
University Libraries is pleased to offer 3D printing services to the University community in Bruno, Gorgas, and Rodgers Libraries for a fee. In Bruno and Gorgas staff will print the design and notify you when to pick up your completed job at the circulation desk in the library to which you submitted the request. In Rodgers, after training, you print the object yourself. STL files must be approved by staff before they can be printed. You may email completed 3D image (STL) files to:
Bruno:
3dbruno@ua.edu
    Gorgas: 
3dlib@ua.edu
     Rodgers:
3drodgers@ua.edu
The University Libraries is now charging for 3D printing: Rodgers: $15/print job
Gorgas & Bruno Ultimakers: Small Prints: $3 dollars (30 grams or less) Medium Prints: $6 dollars (31 – 61) Large Prints: $11 dollars (61 – 120) Very Large Prints: customized pricing (grams X .09)
For more information, please contact the circulation desks at any of the University Libraries and review the 3D Printing Guidelines. If printing at Rodgers Library, check out the Makerspaces Guide.
Available Options
3D Printers (Located in Gorgas Library and Bruno Library)
3D Studio Located in Rodgers Library
Now offering self-service and training for 3D printing and 3D scanning at Rodgers. Sign up at the Rodgers Library circulation desk. Full service for 3D Printing remains available. To send print jobs for full service 3D Printing or for questions related to 3D Printing, 3D Scanning, or the Rodgers 3D studio in general, please email 3Drodgers@ua.edu.
 Participation in a 3D Printer Training and Safety Workshop offered by a Rodgers Library staff member is required prior to use. 3D Printer Training is offered during the spring, summer, and fall semesters, when classes are in session. There is a signup sheet posted at the Rodgers circulation desk with training times. For more information contact 3Drodgers@ua.edu.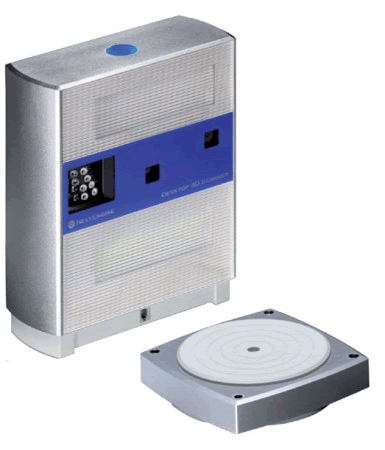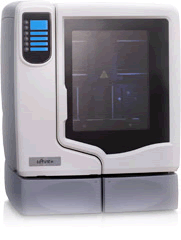 About 3D Printing
WHAT IS 3D PRINTING?
3D printing or additive manufacturing is a process of making three dimensional solid objects from a digital file. The creation of a 3D printed object is achieved using additive processes. In an additive process an object is created by laying down successive layers of material until the entire object is created. Each of these layers can be seen as a thinly sliced horizontal cross-section of the eventual object. (From http://3dprinting.com/what-is-3d-printing)
HOW DOES IT WORK?
It all starts with making a virtual design of the object you want to create. This virtual design is made in a CAD (Computer Aided Design) file using a 3D modeling program (for the creation of a totally new object) or with the use of a 3D scanner (to copy an existing object). This scanner makes a 3D digital copy of an object and puts it into a 3D modeling program.
To prepare the digital file created in a 3D modeling program for printing, the software slices the final model into hundreds or thousands of horizontal layers. When this prepared file is uploaded in the 3D printer, the printer creates the object layer by layer. The 3D printer reads every slice (or 2D image) and proceeds to create the object blending each layer together with no sign of the layering visible, resulting in one three dimensional object.
(From http://3dprinting.com/what-is-3d-printing/#howitworks)

More printed projects can be found in this google photos album.