Archival Sources
Archival Sources
Researching the Artifacts and Evidence of Slavery
Beyond published materials, preserved first-hand accounts of slavery from the point of view of the enslaved are few and far between. Our archival collections, though largely limited to the documentary byproducts of slavery created by the slaveowners, contain a wide variety of materials that help enrich our understanding of the institution and its effects. They include personal papers (diaries, letters), materials related to plantation farming (ledgers, receipts), and artifacts of everyday life during the period (other documents and ephemera). Photographs are rare: photography was still in its infancy and was not often used to capture images of enslaved people.
Archival materials generated by freed people and those born in the generation after emancipation can also be difficult to find.
Note: Some collections appear in multiple sections; the larger they are, the more likely they cover multiple areas of interest, and they have been included in all appropriate lists. In the case of these larger collections, the box and folder with materials pertinent to that section have been given.
You can search for unpublished materials held by Special Collections in ArchivesSpace, our archives database. Some of this can also be found through Acumen, our digital archives interface, which contains digitized materials as well as all available Finding Aids, even for collections which have not been digitized.
By Record Type
1. Church Records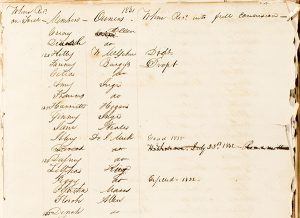 Includes church registers and notes on activities, generally with African Americans included in a separate section or given the notation "colored."
First Baptist Church, Tuscaloosa, Alabama, records (MSS.0517)
Bethabara (Baptist) Church records (MSS.0148)
Union Baptist Church of Christ records (MSS.1462)
Presbyterian Church, Uniontown, Perry County, Alabama records (MSS.1167)
Union Parish records (MSS.1463)
Grant's Creek Baptist Church record (MSS.3907)
St. John's Catholic Church records (MSS.1332)

See Church ledger 1844-1888 (Box 102, Folder 1)

Bethany Baptist Church, Buhl, Alabama, records (MSS.0149)

See Church Records 1832-1853 (Box 2801, Folder 3)

Vernon Grosse collection (MSS.0599)

See New River Primitive Baptist Church record (Box 2359)

First Presbyterian Church, Tuscaloosa, Alabama, records (MSS.0518)

See Record Book:

Book #1 1820-1836 (Box 3766, Folder 1)
Book #2 1836-1842 (Box 3766, Folder 2)
Book #3 1842-1871 (Box 3766, Folder 3)

First United Methodist Church records (MSS.0519)

See Record book 1831-1866 (digitized copy only)

Dunn's Creek Baptist Church records (MSS.0458)

See Record Books:

Logbook 1834-1854 (Box 1571, Folder 2)
Logbook 1854-1881 (Box 1571, Folder 3)

Christ Episcopal Church, Tuscaloosa, Alabama, records (MSS.1791)

See Vestry Minutes Volume 1 (Box 6576)
2. Financial Documents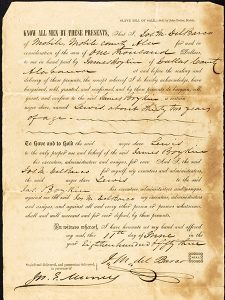 Includes bills of sale, rental agreements, and other financial transactions involving enslaved people.
From business or organizational papers
From personal or family papers
Single receipts or bills of sale
Other single documents
3. Legal Documents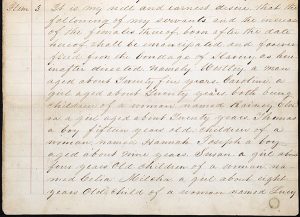 Includes wills as well as documents on legal proceedings related to slavery or enslaved people.
By Topic
4. Slavery and slave trade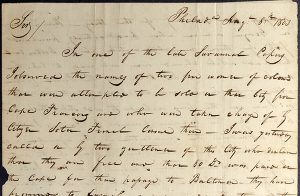 Includes items discussing slavery as an institution.
5. Plantation system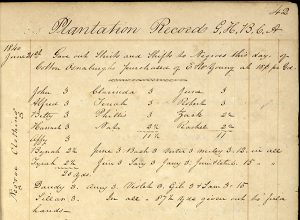 Information about the running of a plantation, including the work done by enslaved people and their care. See Financial Documents for bills of sale, rental receipts, and other transactions.
6. Antebellum race attitudes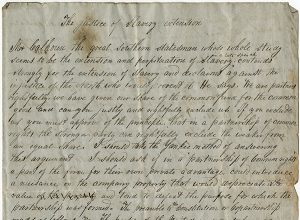 Includes expression of personal opinions on race and accounts of race relations.
7. Fugitive slaves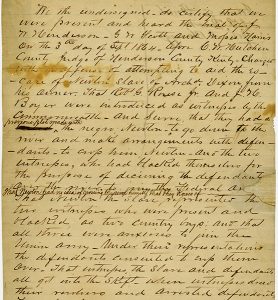 Includes expression of personal opinions on fugitive slave law and accounts of slave escape and capture.
8. Free people of color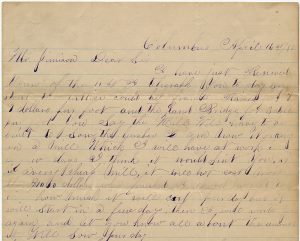 Includes materials related to the lives of free people of color, whether born free, manumitted, or emancipated. For discussion of emancipation as a phenomenon, see the section Emancipation below.
9. Emancipation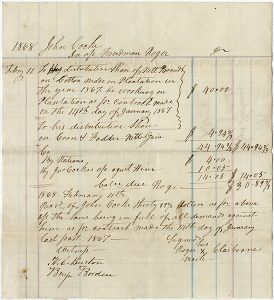 Includes information about and opinions on emancipation as well as the system set up for freedmen.
Finding Aid

See Contracts 1 of 2 (Box 0461-0001, Folder 2)
10. Post-war race attitudes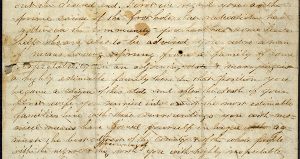 Includes expression of personal opinions on race and accounts of race relations.