Still Tide Together: Documenting Life During the COVID-19 Pandemic
Still Tide Together: Documenting Life During the COVID-19 Pandemic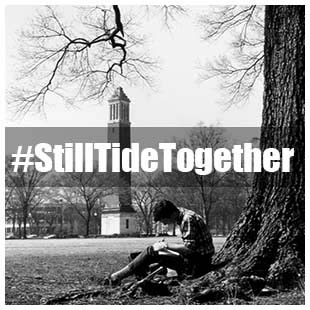 Like many archives and museums across the country, we're interested in documenting how you're experiencing this extraordinary time of global pandemic. What have you seen and felt? How has it changed your routines and habits? How do you think it will impact the future?
Please consider contributing your thoughts and experiences to our collection project, Still Tide Together.
We will be collecting two types of submissions: immediate responses in the form of a text-based questionnaire, and, in the months to come, personal materials created during the pandemic.
---
About the Project
Who can submit?
Everyone's experiences are important! However, we're most interested in the impact to University of Alabama students, faculty, and staff, and to local community members. If you aren't from the Tuscaloosa area or affiliated with the University, check with a university or cultural heritage program near you — they may be doing a similar documentation project.
Also note: We can't accept submissions from people who are under 18, as they are not legally able to give permission regarding the disclosure of personal information.
What kind of materials are welcome?
Whatever reflects your experiences, from documentary or reflective items like diaries, scrapbooks, and photographs to creative works like poetry, prose, music, or visual art.
Digital submissions may include document, image, or audio files. A list of acceptable file types will be provided. We are unable to archive video formats.
---
How to Participate
Phase One: Questionnaire & Intent to Donate
You will have the opportunity to answer some open-ended questions about your experiences. We will also collect some very basic demographic information and ask you to fill out a donor agreement.
On the questionnaire, you will also be able to indicate if you have personal materials you'd like to donate, either physical or digital. We will follow up with you at a later date to explain how to deliver your materials.
Phase Two: Materials Donation
If you indicate on the questionnaire that you would like to donate materials, we will follow up with you to explain how and when.
Donation of physical items will be delayed until we are cleared to receive them. For digital materials, we will provide a link to an upload form, where we will also collect some basic information to identify the items.
All donations will be reviewed, and accepted materials will be archived together as a single collection. It will take some time for this collection to be made public, due to collection and processing time.
About your submission
When you submit your answers through our online survey, you will also respond to a set of permissions questions. These act as a donor agreement for your submission, allowing The University of Alabama Libraries Special Collections to preserve your answers and make them available, online and in the repository, for researchers and the public.
Questions? Email us at archives@ua.edu.