Beroujon Grave Yard Maps and Burial Listings
Beroujon Grave Yard Maps and Burial Listings
Introduction by Nancy Burden Higdon
Donors
Nancy Burden Higdon and Hal L. Higdon, Ph.D.
Dedication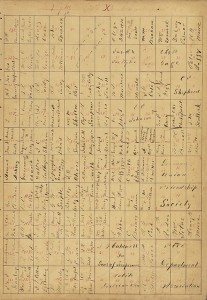 This book is dedicated to Nancy's mother, Claudia Mullen Burden (great-great-granddaughter of Claude Beroujon) and grandmother, Clara Quinlivan Mullen (great-granddaughter of Claude Beroujon), both of whom had a devout love of family and our ancestral history, as well as a love for the City of Mobile…and thankfully, passed on those loves to their children.
Description
Claude Beroujon was born in France in 1797 and arrived in Mobile, Alabama, in 1830 with his uncle, Bishop Michael Portier. He was the architect of the Cathedral of the Immaculate Conception and Spring Hill College, as well as the Visitation Monastery and Academy. The financial responsibilities of providing for a growing family resulted in the opening of an undertaking business. He later became the City Sexton for Mobile.
Claude Beroujon indexed and drew maps of each burial plot in the Old Grave Yard (Church Street Cemetery), the New Grave Yard (Magnolia Cemetery), as well as the Goldsmith and Frolichstein Cemetery Grounds. Also, burials were listed by name, and included the lot and square location of the burial. Unfortunately, no dates were included in this book. Claude Beroujon's son, William Vincent Beroujon, eventually joined him in the undertaking business, which was in the family for several generations.
We were very blessed with the opportunity to obtain this precious book, and desire to forward this information to other family researchers.
We are very grateful to the University of Alabama Libraries, especially Mrs. Mary Bess Paluzzi, Associate Dean for Special Collections, for digitizing and publishing this valuable and informative document. We hope the publication will be beneficial for the descendants of those individuals whose names are recorded in this book, as well as historians.