Thomas Jefferson Jones III Reference Area
Thomas Jefferson Jones III Reference Area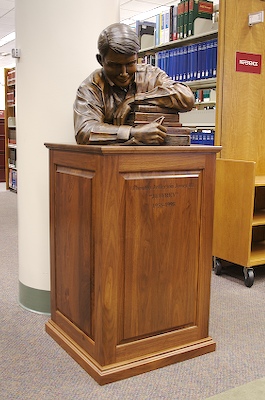 The reference services area of the Angelo Bruno Business Library is named The Thomas Jefferson Jones III Reference Area. This most important services area of the library is so named in recognition of the Library Excellence Endowment established in the Culverhouse College of Commerce by Mr. Jeff and Mrs. Faye Jones in memory of their son, Mr. Thomas Jefferson Jones III. Interior enhancements befitting the named memorial reference area include a prominent bronze sculpture of Mr. Jones and the addition of oak paneling and brass signage at the reference services desk.
The quality of business information sources and library services brought about by the use of funds from the Endowment greatly enhance the teaching, learning and research interests of students and faculty in Culverhouse, and indeed, of library users University-wide.
The library has focused these vital endowment funds on the acquisition of premier electronic databases and supporting technology for digital services. The selection of new commercial databases and the continuation of recently acquired digital sources reflect current Culverhouse priorities and student needs, and include the following business information sources.
BNA Tax Management Library
Web version of the Bureau of National Affairs' (BNA) U.S. Income and Estates, Gifts and Trusts portfolios. Supporting primary sources such as IRS Code, Federal Tax Cases, etc., are also included.
Bloomberg Financial Markets and News
Enhance functionality of the C&BA-funded Bloomberg service through support of upgraded features such as dual flat-panel monitors and high-speed telecommunications circuit.
Sports Market Analytics
Market research reports for the sporting goods and sports marketing industries.
Passport
Comprehensive system providing business intelligence on countries, companies, markets and consumers, with statistics on 200 countries. Includes lifestyle indicators and analysis, market analysis and forecasted data.
Simmons Insights
Contains data profiling consumers of a wide range of products, including both demographic data and media preferences.
Audit Analytics
Provides detailed audit information on over 1,500 accounting firms and 20,000 publicly registered companies.
United Nations Comtrade
Contains annual trade statistics from over 140 countries detailed by commodities and trading partner countries as reported to the United Nations Statistical Division.

It is through The Thomas Jefferson Jones III Memorial Library Excellence Endowment that the business library is able to provide a timely and flexible response to user expectations and to changing needs in the College. The Jones Excellence Endowment makes it possible for the Angelo Bruno Business Library to deliver a higher level of reference services and resources which compare favorably with those offered at the libraries of leading business schools nationwide. Thus the Endowment has a direct positive impact on the success of students and faculty in the Culverhouse College of Commerce.