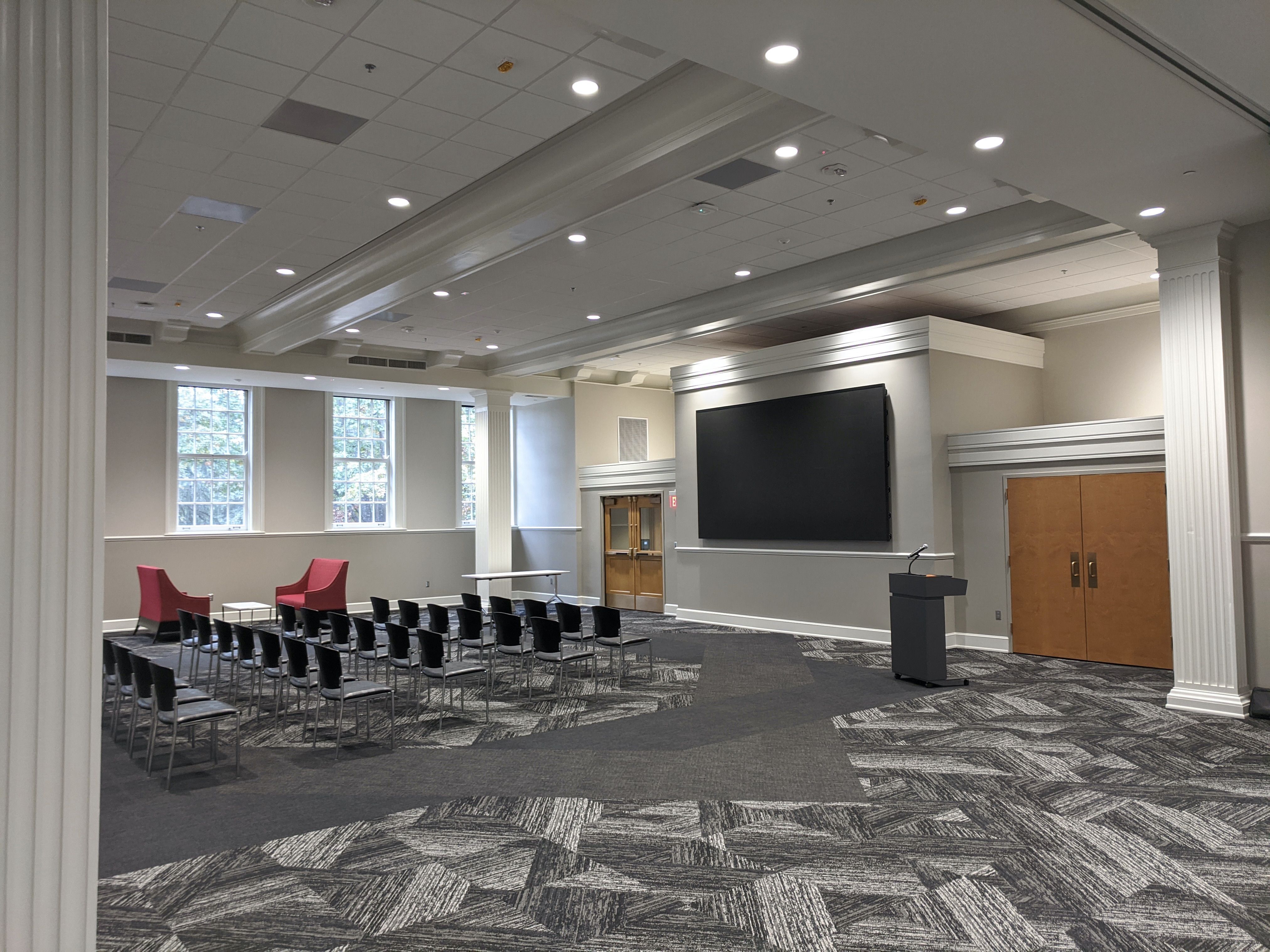 Purpose
The primary purpose of University Libraries facilities is to provide educational and research opportunities for The University of Alabama students and faculty, and for library faculty/staff.
Eligibility
University Libraries reserves the right to change or cancel any events. This is very rare, and should this happen, we will contact you with as much notice as possible.
University Libraries is able to make one space available for meetings, workshops, small conferences, special events, and other approved functions. The spaces are not available for standing meetings, regularly-scheduled class sessions, study hall, or recurring events and series. The spaces cannot be reserved for personal use by University faculty/staff or students.
University registered student organizations, University Departments, and faculty/staff organizations are eligible to reserve a space for events which have an anticipated audience of no fewer than 30 people and:
have faculty and/or current or prospective students as their primary audience
have an academic focus (for example: lectures, readings, book signings, academic awards ceremonies, exhibits, or performances)
promote the exchange of ideas and intellectual debate, or
honor students, faculty, and friends of the University for outstanding service or achievement
Requests
University Libraries will consider requests on a first-come, first-served basis. For space availability, please contact Alyssa Freeman at alyssa.freeman@ua.edu or 205-348-5543.
Room reservation request forms must be submitted for each individual event.
Rooms can only be reserved when the building is open. University Libraries hours and exceptions can be found on the libraries homepage.
General Guidelines
The scheduling of events will be based on space availability and approval by University Libraries. University Libraries reserves the right to refuse any reservation request.
Meetings held in University Libraries must not disturb normal library operations. University Libraries reserves the right to disallow or stop events that are disruptive to normal library operations.
Furniture should not be removed from the spaces and no outside furniture can be brought in without prior approval.
Seating arrangements are discussed during the reservation process. If furniture is rearranged during an event, all furniture should be returned to the original layout and condition as it was when the group arrived.
The sponsoring organization will be assessed the full replacement cost for any damaged furniture, carpeting, or equipment that is damaged due to willful abuse and/or negligence.
The sponsoring organization is responsible for removing all food and discarding all trash outside of the building to the nearest dumpster.
No signage or decorations are permitted without the prior approval of University Libraries. Tape, tacks or nails are not allowed on any walls, woodwork, tables, monitors or screens. Groups will be billed for any damages that occur during their event.
The sponsoring organization may not charge admission to their event.
Groups reserving space are required to observe all applicable policies of University Libraries and The University of Alabama, as well as all local, state, and federal laws.
University Libraries is not responsible for any lost, stolen, or damaged property belonging to the members of the sponsoring organization utilizing the facilities.
University Libraries reserves the right to deny use or continued use of its facilities to any person or organization not complying with applicable policies or procedures.
Food and Beverage
All catering arrangements are the responsibility of the sponsoring organization. The caterer must be chosen from the list of caterers approved by the University of Alabama. A representative for the sponsoring event must be present to accept any vender deliveries or catering. The sponsoring organization is responsible for removing excess food, discarding trash, and wiping down tables after event. To request access to the catering kitchen, please make note in your reservation request or contact Alyssa Freeman at alyssa.freeman@ua.edu.
To serve alcoholic beverages at an event, University Libraries must receive an approved Request to Serve Alcoholic Beverages at Events on Campus form, complete with all signatures prior to the event date.
Publicity
The sponsoring organization is primarily responsible for arranging marketing materials and publicity. These materials should contain consistent messages and present the University Libraries official logo. Please contact Alyssa Freeman at alyssa.freeman@ua.edu for logos.
Walk-through Viewing
Groups are encouraged to do a walk-through of the space during administrative business hours prior to their event. During the walk-through, groups can test the AV equipment and determine if the setup will suit their needs. Please contact Alyssa Freeman at alyssa.freeman@ua.edu to schedule a walk-thru when the space is available. The spaces remain locked at all times when not in use.
Parking
Parking is governed by UA Parking Services and is the sole responsibility of the sponsoring organization.
Policy Exceptions
Any exceptions to this policy require the approval of University Libraries.
Gorgas Meeting Rooms Technology
Laptops Available:
MacBook Pro with Touchbar- 3 Thunderbolt ports, USB-C Digital AV Multiport Adapter provided
Dell Latitude 7400- USB and HDMI ports, Windows 10

Laptops are connected to the UA wireless network. Laptops use the Crestron AirMedia application or HDMI connection to display picture to the LED video wall.

Presenters are encouraged to have their presentation saved to a USB flash drive or the ability to pull it from email or other web based application.
If the presenter chooses to use their own device, it must have an HDMI port or adapter to connect an HDMI cable.
Accessories Available:
Handheld microphone
Hand-free lapel microphone
Presentation clicker
For questions regarding supporting devices or additional a/v specs, please contact Alyssa Freeman at alyssa.freeman@ua.edu or 205-348-5543.