FAQ
FAQ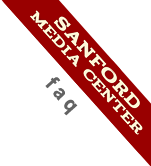 Hi, we are the Sanford Media Center!
What is this monstrosity of technology and awesomeness?
Basically, the SMC is a multimedia production facility that serves the UA student body. We help you in any type of creative digital project you might have! It can be for personal use or class, it doesn't matter! We are here to help you learn.
Do I need to bring anything with me when I come here?
Yes, you need two things: your ideas and your Action card. We have to validate your status as a student, after all.
I am a poor college student, how could I possibly afford all this?
It's pretty much all free. You have to pay for things like CDs and DVDs, but the equipment, software, and instruction are all free!
So what kinds of things can I do in here?
Pretty much anything related to multimedia. We have the Adobe Creative Suite, as well as Apple's entire line of audio and video pro apps! You can use the lab computers, borrow equipment and even use our fancy studio for audio recording! If it's digital media, we will help you.
I don't know how to use those programs. Now what am I going to do?
That is okay! Just ask us questions.  Our student staff members are well trained and always here to help. If you need more assistance or one-on-one time, you can make an appointment for a consultation with any of the professional staff.
You said something about equipment?
Yeah, you can see a full and graphical list
here
. In summary, we have video camcorders, still cameras, and audio kits. Our equipment page will also tell which equipment requires training. You can check out our policies on equipment rental
here
.
I will check that out, now tell me about this Studio.
Everyone loves the Studio! It is our most popular resource. We do require training before you're allowed to use or reserve the studio. Once you have training, you can schedule reservations anytime we are open. We strongly recommend reservations for this space. The studio fills up fast, so you will want to make your reservations early!
Okay, obviously you guys like reservations! So how do I make one?
So what happens if I miss a reservation?
Well, if you let us know before the reservation, not a whole lot. But, if you just forget, you get put on the NCNS list. If you want to know all the rules about the No Call No Show list, hit up our
policies page
.
Wow, this is pretty amazing! Is there anything you guys can't do?
Well, we don't allow anything that is illegal or dangerous. (duplicating copyrighted material, bringing in food or drink, hurling fireballs across the room, etc.) If you want to know more about copyright, check out the University's page on it
here
.
So what if you don't have the equipment/software I want/need?
Let us know! The only way we can improve is when you tell us what you guys want. In the meantime, we will work with you to find an alternative solution with the equipment and software we do have. If that doesn't work, we will try to point you in the direction of another resource that might be helpful.
Well, you guys are so much better at this stuff than I am, can't I just have you do it for me?
No! We are here to help you learn and produce your own work and we will help you kicking and screaming through the process. We have all day 🙂
I forgot my jump-drive. Am I going to lose my work?
Not necessarily. Storage is kinda funny. We do allow and recommend that people save their work to the USERFILEDIRECTORY on our computers, but this is temporary storage. These are public computers, so anything could accidentally happen to your files. We strongly suggest backing up on your own external hard drive, jump-drive or optical media. We also erase the drives before each semester or if a computer's storage space fills up.
Can I eat and drink at the computers while I work?
No. Food and drink are not allowed. It's not really worth the risk to the equipment.
Well this place seems pretty cool and laid back. Anything else I should know?
Have fun! Ask questions! Create!
For Faculty
I'm a faculty member and I want to assign a multimedia project to one of my classes. Can you help me?
Yes. We are glad to help faculty plan for an assigned project. Please contact the program coordinator, Lindley Shedd.
I'm a faculty member and I want to create my own multimedia project. Can you help me or do it for me?
No. The Sanford Media Center is for students. Faculty who require help or media services should contact Marilyn Staffo at the Faculty Resource Center (FRC).
If your questions were not answered on this page, please ask using our
Contact Form
.