Dear Homefront
Dear Homefront
Dr. Alston Fitts
A native of Tuscaloosa, Alabama, Dr. Fitts served in a military hospital in France, and his letters show how he balanced the pressing concerns of the world in front of him with the life he couldn't entirely leave at home. The interesting thing is how differently he approaches that balance with each person he wrote to.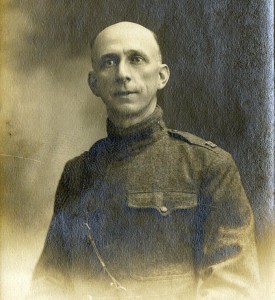 Setting off
To get some sense of Alston Fitts as a man, consider this quote from a colleague, discussing his imminent call to service (October 26, 1917):
Dear Doctor Fitts; I was not a bit surprised when I heard that you are waiting your call to the front. What a boon your personality, your tenderness, your skill will be to the wounded on the battlefield or in a hospital "somewhere in France." I know there was something in your soul that leaped at this opportunity for service – for unusual service.
On December 12, 1917, now at Camp Jackson, South Carolina, he writes to his wife, Marie, about his new digs — we have steam heat in one barracks so manage to keep fairly comfortable — but he quickly transitions to a discussion of their teenage son:
About Jim. I am truly sorry he seems so set against the A. M. A. [Augusta Military Academy]. If he falls out of this he will never stick to any school, and that means he will not be a college bred man. I hate to think of it. He wants to go to the U. of A. next year and he is in no wise prepared for a University Course.
Settling in
This letter from January 20, 1918 shows he was still getting the hang of the censoring rules, inadvertantly revealing details of their travel: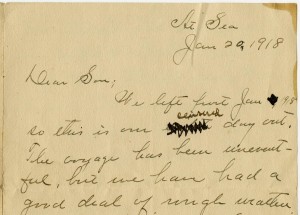 Two months later, on March 29, 1918, he describes to his wife the nature of the war against the "bosches" (Germans):
Home and away
Besides his immediate family, Dr. Fitts also had other correspondents, like his neice, Annalee, to whom he wrote on July 15, 1918.
His letter to his daughter, Mary, of the same day speaks to her life at home, including her relationship with her brother — You must not mind if brother teases a little — although he does talk some about his experiences, at least the safe ones: We are now getting white bread at our Camp – and you bet it tastes good after eating the black, French bread so long.
Significantly, though, he ends with a wish to see his war life end and his home life begin again:
Our soldiers are doing great work just now at the front. I wish they could push them back enough to make them want peace, and we could begin to plan to come home.
On September 6, 1918, he tells Jim about the more dangerous side of war, although it seems to be mostly an adventure, just part of his vacation: Most of the guests of the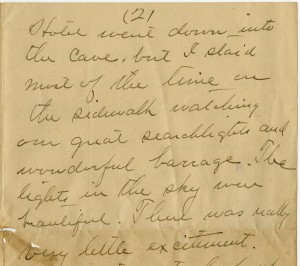 It is to Marie that he most frequently talks about his work in the hospital. On September 29, 1918, he writes,
I have charge of Ward "D" of this hospital, and just at present it is full of grippe patients. The boys seem very greatful for any little attention shown them. They are certainly helpless, just like children. I spend a good deal of time in the ward as it is indeed the only thing I have to do. News from the front is quite encouraging just at present, but I fear the bad weather which is now near at hand will greatly curtail operations. Everyone here seems anxious to do all possible to hasten the end!
Watching and waiting
On October 4, 1918, in the wake of the armistice with Bulgaria, he writes to his son, now at Augusta Military Academy:
You would enjoy a visit to this camp I think. The air is full of machines all the while. The boys do some wonderful stunts, and all seem anxious to be allowed to go to the front. I am hoping that we can get in a few good licks in Austria, and perhaps she will follow the example of Bulgaria.
On November 2, 1918, after the armistice with the Ottoman Empire, he writes to Marie of his thoughts on All Saints Day:
Just two weeks later, the armistice to end the war has come, and he attends a dedication of a road named for U.S. President Wilson. He tells Marie,
We had a parade, music of course, and I was on the receiving stand with Col Bingham and the American officers who participated. This evening the Fete will be concluded with music and a ball in the open air.
After the Treaty of Versailles was signed, Alston telegrams Marie to let her know he's coming home:
Which he did — and safely.
---
Reference
Alston Fitts Letters and Photograph. W.S. Hoole Special Collections Library, University Libraries Division of Special Collections, The University of Alabama. Accessed July 15, 2014. http://purl.lib.ua.edu/19059
---