Martha Strudwick Young
Martha Strudwick Young
Marks of Heritage
Aunt Julia
While Martha Young is well known in Alabama in her own right, she comes from a even more well-known family. Her mother was Eliza Tutwiler, the daughter of Dr. Henry Tutwiler, an educator who got his start at the University of Alabama (1830s) but eventually established Greene Springs School for Boys in Hale County, Alabama (source). Eliza's sister Julia followed in his footsteps, teaching at various schools in Alabama and in general advocating for women's education. (For more, including her work to reform prisons and her temperance activities, see this booklet about Julia Tutwiler's life.)
Martha was much interested in the history of her family, as evidenced by the many genealogical resources in her collection. Some of them relate to the Tutwilers, originally of Swiss-German origin, but many also describe her father's lineage.
According to this account, Dr. Elisha Young was at Fort Morgan during the Civil War. The name ran in the family — his father was Col. Elisha Young, who served in the War of 1812, and his son (Martha's brother) was also Dr. Elisha Young, which sometimes causes confusion when one is looking at her family papers. The Young line goes all the way back through the Revolutionary War to origins in Ireland and Scotland.
Martha was an old family name. Her father's mother (old Col. Elisha's wife) was Martha Strudwick. Martha Strudwick's sister Elizabeth was married to Pascal Paoli Ashe…and they were her mother's grandparents. Through the Strudwick line, Martha's parents are first cousins once removed.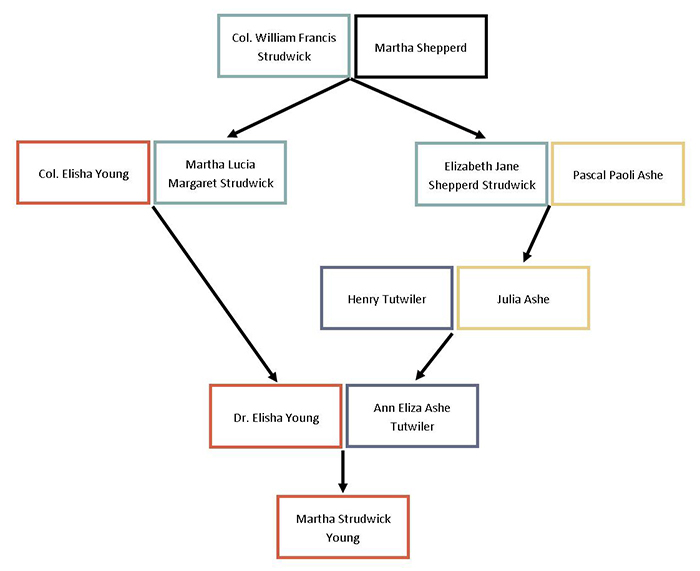 Incidentally, her Ashe ancestry goes back to North Carolina Governor Samuel Ashe. One of her first cousins on the Ashe side (another grandchild of Henry Tutwiler and Julia Ashe) is Paoli Ashe Smith, a soldier in WWI, whose papers can also be found in our digital collections.
Being the granddaughter of Henry Tutwiler, Martha was educated perhaps more than many of her peers in the late 19th century. She attended Greensboro Female Academy and Tuscaloosa Female College, pictured below in a later decade.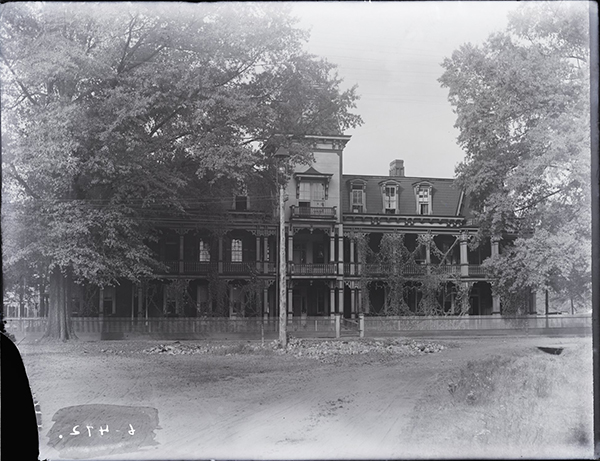 Eventually, she graduated from Livingston Female Academy and State Normal College, where her Aunt Julia was principal (1881-1910) (source). That school is now the University of West Alabama, where a building still bears Tutwiler's name: Julia Tutwiler Library. (Of course, the University of Alabama has Tutwiler Hall, a women's dormitory.)
Education must've been important to Martha, too. Many of her stories are fables for children, based on African-American folklore, often with instructions for how to make that story into a performance game. Click on the images below to see a couple of examples.
One contemporary fan had this to say about Young's work: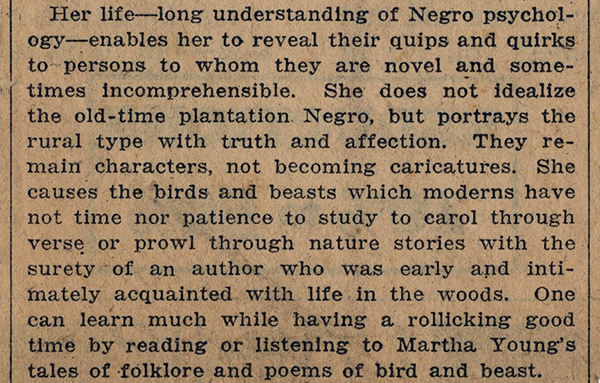 ---
Mammy and Uncle Tom
In hindsight, Martha's habit of retelling black folktales, complete with narrator "Mammy," makes modern readers a bit uncomfortable. But at the time, this kind of literature wasn't unusual. Her writing was part of a wider tradition of plantation literature, characterized by its nostalgia for the antebellum South. One of its main character types is the "happy darky," a former slave who think kindly of his or her former master and perhaps even longs for the "good old days" of slavery (source). At the time, this genre was enormously popular.
A lot of our modern problem with these stories has to do with who wrote them. One of the more popular authors in this genre was white Georgia writer Joel Chandler Harris. His Uncle Remus was a elderly black storyteller figure who, in Harris's stories, told folktales, usually with a moral, to white children. If you've ever read stories about Brer Rabbit, they trace back to Uncle Remus and Harris.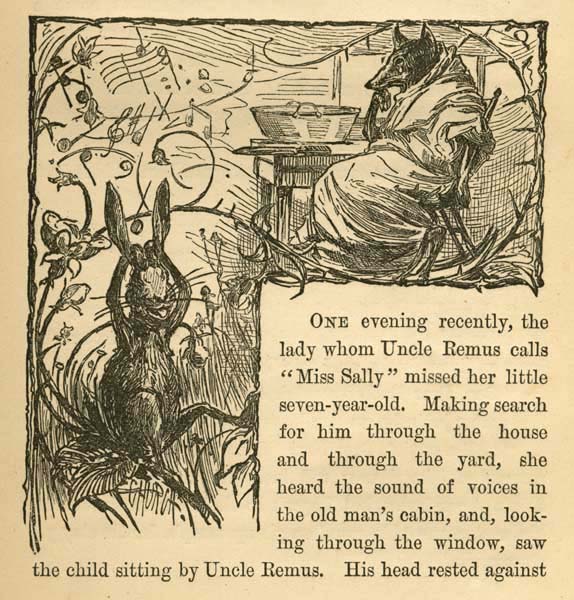 Why was he "Uncle" Remus? Often, older men on a plantation were referred to as "Uncle," derived from Uncle Tom, while women might become an "Aunt" or (as in Gone with the Wind) "Mammy." This stereotype doesn't seem harmful, but it's still patronizing; if nothing else, these characters seem to indicate that slaves or former slaves were happy with their lots in life, which was probably not the case.
It doesn't sit well with modern readers that a white man was co-opting black culture like this, complete with exaggerating their dialect, especially as it was aimed not at anthropology but at entertaining white listeners (in the story) and white readers (in publications). It didn't sit well with contemporary author Charles W. Chesnutt, either. Chesnutt, an author of mixed race who identified as black, published his own plantation stories in The Conjure Woman (1899).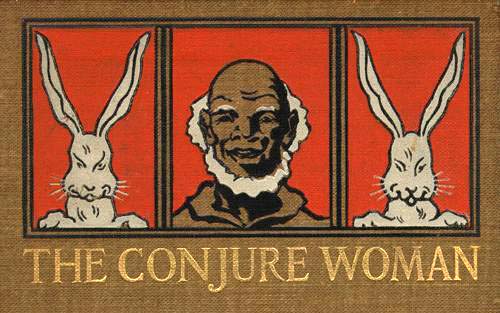 On the surface, Chesnutt's stories don't seem that different from Harris's, but the book was actually quite subversive:
These seven short stories use a frame narrator, John, a white carpetbagger who has moved south to protect his wife Annie's failing health and to begin cultivating a grape vineyard. Enamored by remnants of the plantation world, John portrays the South in largely idealistic terms. Yet Uncle Julius McAdoo, the ex-slave and "trickster" figure extraordinaire who narrates the internal storylines, presents a remarkably different view of southern life. His accounts include Aun' Peggy's conjure spells … as well as those of free black conjure men… These conjure tales reveal moments of active black resistance to white oppression in addition to calculated (and even self-motivated) plots of revenge (source)
There is no sense of subversion and irony in Harris's texts, and there doesn't seem to be any in Young's either, especially since they were created as moral tales for children. However, another text of Young's makes me wonder if there wasn't more beneath the surface after all.
---
Uncle Isham
"Uncle Isham sings to the suffragette," an 1888 dialect poem credited to Martha's pseudonym Eli Shepperd, presents a challenge to the reader, making it difficult to get a handle on Martha's perspective on both race and women's suffrage.
What's dis? De ladies wants to vote!
Shoo! I was onct in dat same boat;
But sense I got my ballot in
My balance ain't no bigger been:
And my vote in dat ballot-box
Ain't put no dimes in my ole socks!
Heigh-ho! De ladies wants to vote –
Gib me instid a fattnin' shoat,
And I will put my good "poll-tax"
Upon my shoulder wid my ax
And split dat pole to roast dat pig –
Let who will ride in de voter's gig!
How's dis? De ladies wants to vote;
De gem'men useter pay dem co't,
Dat useter satisfy dey heart –
But now de cow want pull de cyart!
Oh, ladies, let suffrage alone,
It don't put shortnin' in de pone!
Come, ladies, what's de use to vote?
Like me you's useter bein' tote,
To have yo' vittles give you free,
And some one clothe you – same as me –
La! Ladies, when dey give dat vote
Dey stop dat gracious good suppo't!
Now, ladies, I would change my vote
For any sorter good ways – note
Des take advice, profit by me,
I sho' will a good prophet be –
You better go be somebody's pet
Dan a lonesome lady suffer-yet!

Here we have a poem written under male pseudonym (a man who would've been assumed to be white), featuring a black man telling women they don't need to vote — because he's recently been granted the right, and it didn't help anything. However, Martha was well educated (not to mention the niece of the formidable Julia Tutwiler and an anti-secessionist grandfather) and she never married, maybe because she wanted to be independent.
The poem, then, is hard to interpret. Perhaps the ideas here are to be taken at face value, reflecting Young's anxiety about women as voters (perhaps even through the use of irony), but they may be entirely ironic, using humor to point out the ridiculous notions behind the opposition to women's suffrage.
The confusion for the modern reader examining "Uncle Isham sings to the suffragette" fits with the complex portrait of Martha we've been developing here. Was she a woman nostalgic for antebellum life and determined to white-wash its problems, or was she simply romantically attached to the stories she heard in her childhood and genuinely interested in those stories gaining a wider audience? Did she dread social progress like women and blacks gaining the vote, or did she merely choose some unfortunate ways to reflect and mock the anxieties of others?
It's possible she was a bit of all these things. If nothing else, you could say she was interested in learning about the world around her and engaging with the important topics of the times. Her Aunt Julia surely would've been proud.