Augusta Evans Wilson
Augusta Evans Wilson
Fame and Love, Love and War
An Anxious Time
The feeling here is intense; not noisy, but deep, and the faces of the people are stamped with stern, desperate resolve.
— Letter of Nov. 13, 1860, a month before the Civil War began
Augusta Evans watched the coming War Between the States, what we now call the Civil War, with interest. This was in part because she lived in Mobile, near Fort Morgan, as she discusses in this letter from February 1861: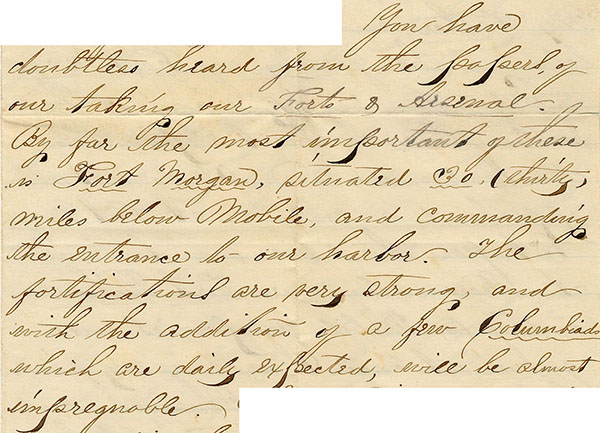 Later in that same letter she talks about the ladies in the town helping make 9000 sandbags for the fort's ramparts. For her, the threat to the fort is a personal concern:
It is an anxious, terrible time: My Father and both my Brothers belong to the garrison of Fort Morgan and you can readily imagine, how restless their constant exposure to attack renders me.
Augusta spent some of the war working in a military hospital. In a letter from January 1862, she writes,
Oh! My Darling if I could tell you of all I have witnessed, and endured since I became a hospital nurse!
She goes on to describe the state of the hospital, the diseases rampant there, and the treatment methods employed: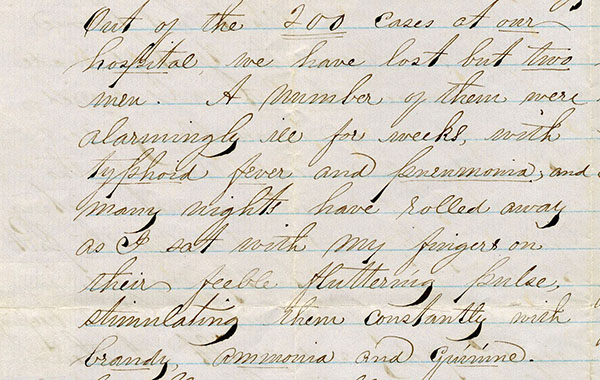 In a letter from October 1861, she comments directly on the war:
The inexplicable policy of the Richmond Cabinet, the evident timidity of President Davis, the ruinous inaction of the Army of the Potomac, and the disgraceful conduct of affairs in Western Virginia, all tend to impress me with the melancholy apprehension that the war will "drag its slow length along," possibly for years, expending the precious blood of our moblest and best and exhausting the resources of our Confederacy, which I fondly hoped, had Pallas-like sprung into existence, "full-armed, invincible."
In that same letter, she makes reference to the Second Punic War, between the Roman and Carthaginian Empires in the third century B.C. She imagines the South as Rome (the eventual victors) and the North as Carthage:
Rachel, I am haunted by the fear that our leaders lack nerve; that we have No Scipio to carry the war into Africa. For months, the burden of the Southern press has been, delenda est Carthago [Carthage must be destroyed]!
She went on to say:

Unfortunately, this was a prophetic statement — the South was, indeed, more like Carthage, winning a major battle like Bull Run but losing the war.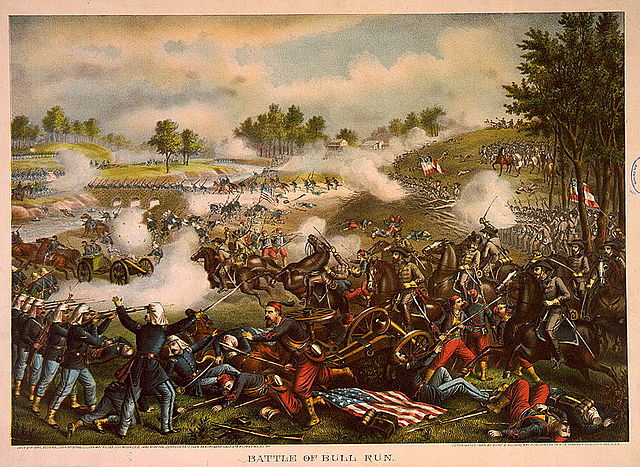 It's no surprise, then, to see that the war figured heavily in her writing, including her 1864 novel, Macaria, which was popular in both the South and the North, to the point that a Union general had to collect copies of it from his troops and burn them, banning the book from camp (source). In her lifetime, her works were so well known that they inspired parodies, like St. Elmo parody St. Twel'mo, or the Cuneiform Cyclopedist of Chattanooga (1867) (source). Here's a sample of the way her views of the First Battle of Bull Run (or Manassas) made its way into her fiction, from Macaria, Chapter 23:
In July, 1861, when the North, blinded by avarice and hate, rang with the cry of "On to Richmond," our Confederate Army of the Potomac was divided between Manassas and Winchester, watching at both points the glittering coils of the Union boa-constrictor, which writhed in its efforts to crush the last sanctuary of freedom.
---
The Solemn Step
Mrs. Aubrey was the only daughter of wealthy and ambitious parents, who refused to sanction her marriage with the object of her choice; and threatened to disinherit her if she persisted in her obstinate course. Mr. Aubrey was poor, but honest, highly cultivated and, in every sense of that much abused word, a gentleman. His poverty was not to be forgiven, however, and when the daughter left her father's roof, and wedded the man whom her parents detested, she was banished for ever from a home of affluence, and found that she had indeed forfeited her fortune.
Augusta had complicated notions about marriage, revealed in her novels and well as in her personal life. She had been engaged to a New York journalist but had to break off the engagement due to his politics: he was a Lincoln supporter! (source)
During the time span of the letters in our digital collection, her friend Rachel found a husband, which is why sometimes she's addressed as Rachel Lyons and sometimes as Rachel Heustis. Dr. Heustis was an acquaintance of Augusta's, and she seems to have nothing but good things to say about him, as her letter of March 28 indicates.
But Rachel, a Jewish woman, was anxious about telling her parents of her engagement to a Christian, so she didn't do so immediately, which Augusta is "astonished" to discover:
Oh Rachel! you owe it to them to acquaint them immediately with the solemn step you have taken; and the holy relationship which you occupy to Dr. Heustis. They are your best friends, dear Rachel, and do you suppose they would oppose you in any matter which you say involved your happiness? Since your conscience does not forbid your marriage, do you think that the difference of faith will present any insurmountable obstacles to their consent? That they would of course prefer otherwise, I have no doubt, but they must feel that it is a matter which you only can decide.
Rachel wasn't just her confidant in matters of the heart. She was also a reader of her novels, and her opinion of Augusta's work was highly valued:

---
The Impossible
The world needs elevating, and it is the peculiar province of the Novelist to present the very highest, noblest types of human nature.
Clearly, for Augusta, her experiences — from seeing war play out in front of her to choosing who (and even if!) to marry — played a major part in her fiction. In a letter from July 1860, she shows herself to be well aware of the tension that might exist between having a literary career and having a husband and family.
First, she shares her views of novel writing as a vocation:
Understand me though, darling; literary women, have trials that the world knows not of; are called on to make sacrifices whose incense, floats not before the public; but Rachel, beloved; though our Sisterhood work in dark lonely corners, we have joys and encouragemnets peculiar to the vocation — I speak not now of mere gratified ambition; I point you to the nobler aim of doing Gods' work. There is a calm sweet reward, arising from the discharge of duty like this, such as no one can take from us.
Then she contrasts the life of an author and a married woman:
I have thought much of all this, and my deliberate conviction is, that while literary women as a class, are not as happy, as women who have Husbands and Children to engage their attention and monopolize their affections; yet in the faithful employment of their talents, they experience a deep peace and satisfaction, and are crowned with a glory such as marriage never gave. I have spoken of the two as antagonistic; I believe them to be so. No loving wife and mother can sit down and serve two masters, Fame and Love. It is almost impossible.
She goes on to say that she herself will never get married: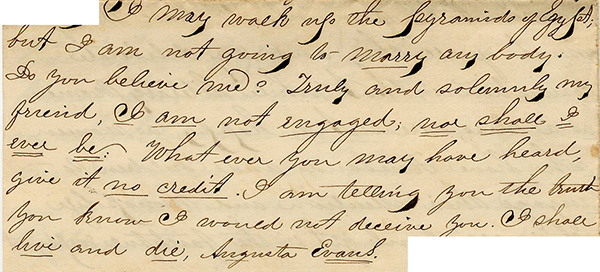 However, from her last name here, we already know that this wasn't ultimately true. It was 1868, three years after the end of the war, and she was 33 years old. Lorenzo Wilson, 60, was a Confederate veteran. Her marriage did not prevent her from writing more novels, including Vashti, or Until Death Us Do Part (1869), Infelice (1875), At the Mercy of Tiberius (1887), A Speckled Bird (1902), and Devota (1907), published just two years before her death at the age of 74.