Current Exhibitions
Current Exhibitions
Gorgas Library, Pearce Foyer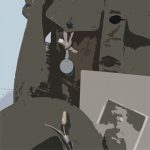 For Home and Country: America's Entry into the "War to End All Wars"
Martha Bace
Beginning March 2017
To commemorate the 100th anniversary of the United States' entry into World War I (April 6, 1917), the University Libraries Special Collections has installed an exhibit featuring selections from their collections that illustrate how the War impacted the lives of those serving on the "Front Lines" and those on the "Home Front." On display are uniforms and military paraphernalia, letters, photographs, and posters that each have a story to tell. They tell of young men who had probably never been more than one hundred miles from home before, of one's patriotic duty to save food for the children of France, and the underlying heartache and longing for loved ones. Now those stories must, for the most part, be imagined by the viewer – the voices behind them having been silenced by time.
Hoole Library, Lobby (Mary Harmon Bryant Hall, 2nd floor)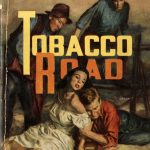 Trash or Treasure: When Southern Gothic Met the Pulp Novel
Kate Matheny
December 2017 – March 2018
Erskine Caldwell was a realist who wrote about the poor, desperate people he grew up with in rural Georgia. William Faulkner was a modernist who wrote about the dying aristocracy he saw around him in small town Mississippi. Their willingness to confront stark, often ugly realities of modern Southern life made it all too easy to characterize their works as prurient, transgressive. Exciting.
Whether or not they were aiming for something scandalous, this kind of content provided an excellent way for publishers to market their works. Eventually, Caldwell and Faulkner became buzz words for a particular kind of Southern fiction. They were frequently republished in the 1950s, which marked the height of the pulp novel craze and continued the country's fascination with Southern literature — whether it featured Caldwell's "crackers" or Faulkner's old money, whether it was trash or treasure or some measure of both.
The exhibit presents and analyzes some of these pulp-style novel covers. In addition to Caldwell and Faulkner, it encompasses a variety of Southern writers of literary and entertainment fiction, many of whom were well known in their day but have been largely forgotten.
Williams Collection (Gorgas Library, Room 301)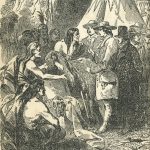 Natives and Newcomers: A Hidden History
American Studies 470 & 570, with Mairin Odle and Kate Matheny
April to October 2017
This exhibit explores centuries of cross-cultural encounters between the Native peoples of North America and 'newcomers' of European and African origins. The items shown here reflect those complicated exchanges, telling stories of valuable alliances, deep misunderstandings, violence and displacement, and myth-making and memory.
The materials on display were largely created by white travelers and settlers, a context that makes interpreting them challenging. Each item was chosen and commented upon by a Fall 2017 student in AMS 470 and 570. The students also helped arrange the items into thematic groupings, building upon knowledge developed through various course activities and assignments.