Plan Ahead – University Libraries visits during fall semester: The University Libraries have been preparing for your return to campus and in order to maintain your safe and healthy access to materials and services, we've introduced some new procedures. Because of the COVID-19 pandemic, social distancing requirements, and limited building capacity rates, we are implementing a mechanism for reserving seats in Bruno, Gorgas, McLure, and Rodgers libraries. This mechanism will provide an equitable means for access to our libraries to ensure the most people can use the physical resources we offer. It will require a bit more advanced planning on your part. We appreciate your patience and compliance during this unusual time.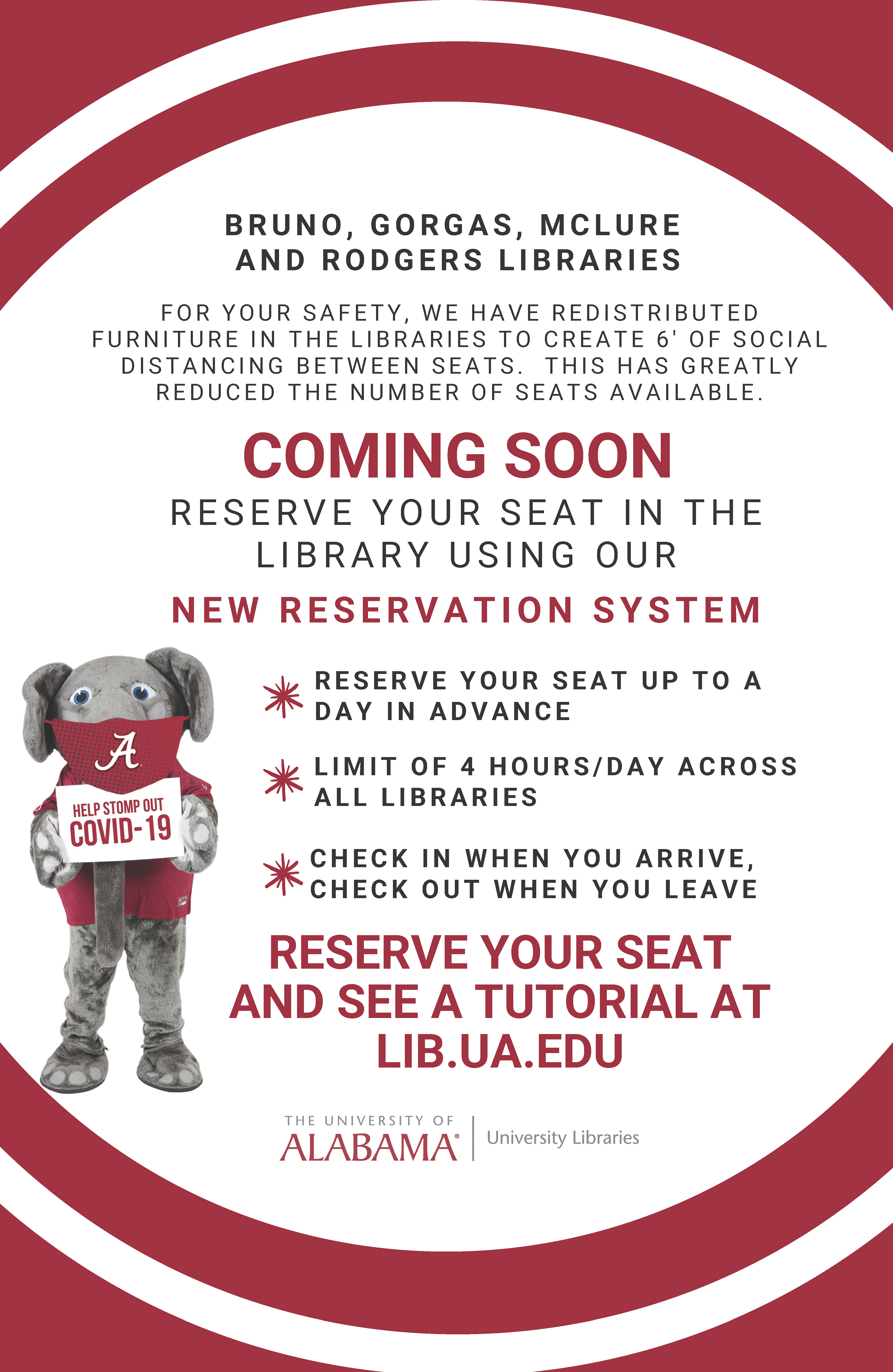 The Plan
On Monday, August 24, 2020, the University Libraries will introduce a reservation mechanism for seats in Bruno, Gorgas, McLure, and Rodgers libraries. A link to the reservation system and a video tutorial on its use will appear on the University Libraries web site (https://lib.ua.edu). The days from August 24, 2020, to August 30, 2020, will provide an opportunity for you to become familiar with using the reservation system. Starting August 31, 2020, use of the system will be required for entry into the University Libraries. The University Libraries will adjust the reservation system during the semester as needs require.
Mini FAQ
What if I just need to visit Gorgas to get a cup of coffee at Java City, print a paper, or use the bathroom?
We have built into our building capacity mechanism some flexibility to accommodate these situations. After finishing your business, we ask that you exit the building in fairness to those who have made reservations.
What if, after I'm in a library for a quick visit, I decide to stay?
You may make a reservation at any time with a mobile device. If a seat is available in the reservation system, you may reserve it. You would then need to speak with library staff to show your reservation. If a seat is not available at that time, you would need to reserve one at a later time and return to the library at that time. Keep in mind, just because a seat is not occupied currently, it does not mean that it is available for your use. It could be already reserved by someone else.
What if I am coming to pick up an ILL or requested item?
You may enter to pick up your ILL or other requested items and promptly leave the building or have your materials delivered to you at the Gorgas Library Capstone doors as outlined in our Grab-N-Go service page.
Why are the University Libraries requiring reservations?
We have implemented this system in order to comply with building occupancy limits and social distancing and to provide an opportunity for students, faculty, and staff to effectively plan for and gain access to physical resources contained in our University Libraries. Without a mechanism such as this, once we reached the capacity limits of the individual libraries, our patrons would have to wait in line until someone else left the building.
For how long can I make a reservation?
You may reserve up to 4 hours per day across all University Libraries. You may make reservations up to one day in advance.
---
University Libraries Facilities Use Guidelines for Fall 2020
University Libraries has compiled the following guidelines in order to create a safe environment for students, staff, and faculty on campus, as well as University Libraries employees, and others who enter our facilities.
University Libraries Facilities Guidelines for Fall 2020 include best practices that are universally recognized as effective for preventing community spread of the novel coronavirus, and follow the safety protocols that are in place based on the State of Alabama COVID orders, the UA System Comprehensive Health & Safety Plan, the University of Alabama Return Plan, guidance from the Centers for Disease Control and Prevention, and guidance from the Alabama Department of Public Health.
Guidelines Governing the use of University Libraries Facilities for Fall 2020:
Action Cards, or Mobile Action Cards on one's phone, are required to enter our facilities. Members of the general public are not allowed to enter our facilities until further notice.
A mask or face covering must be worn over the nose and mouth at all times while in University Libraries facilities.
Plexiglass health screens have been installed at public service points in our facilities.
Social distancing is required in our facilities. Users must maintain 6 feet of distance.
Patrons who arrive in groups are expected to disperse when in our facilities.
Signs, floor waypoints, and guides denoting 6 feet of distance have been placed near service and queuing points throughout our facilities.
We have configured all open computer workstations and seating areas in our facilities to provide for 6 feet of distance.
Patrons must not move chairs or reconfigure furniture layouts as this would interfere with social distancing guidelines.
When our facilities reach capacity we will need to limit patrons from entering until numbers decrease. University Libraries will deploy a reservation system that allows students to reserve a space to ensure equity of use among the student body.
Special Collections has facility-specific guidelines that are available here.
Library instruction will be delivered on a case by case basis, using a hybrid model that prioritizes virtual delivery of instruction. Librarians will create asynchronous content for instruction purposes, and synchronous content will be delivered via group video conferencing rather than in-person class visits inside our facilities.
We have removed all document production tools/items from our service points (staplers, paper clips, etc.) until further notice to provide a clean surface that can be sanitized more easily.
We have reduced the occupancy of restrooms by 50% to promote social distancing.
We have closed all group study spaces until further notice.
Eating and drinking in University Libraries facilities must be done actively, quickly, and in a socially distanced manner in order to return face coverings in a timely fashion.
Whisper Booths will undergo a 72-hr embargo between users and will be limited to one person per session.
We will not host events in our facilities until further notice.
We encourage patrons to limit the number of people riding on elevators at one time.
Regular hand washing/personal hygiene is encouraged, and hand sanitizer is available throughout our facilities.
Regular cleaning and disinfection of high touch surfaces will be performed in our facilities.
Based on materials safety guidelines, we have altered circulation and recirculation procedures for books, and other equipment. University Libraries will limit in-person interactions associated with the receipt and recirculation of materials throughout our facilities. Non-book items that will fit in book drops can be returned to book-drops to avoid as much patron-to-staff contact as possible.
Paper-based materials will be quarantined for 24 hours before processing and re-shelving can begin, following industry standards. Smooth plastic or plastic-like surfaces, media (e.g., CDs, DVDs, etc.) and microformats (e.g., fiche, film, etc.), and all AV equipment loans will be quarantined for 72-hours before processing can begin.
Equipment such as kits, headphones, etc. will be cleaned with either a sanitizing agent or 70 % isopropyl alcohol wipe or solution, whichever is the most appropriate for the material, before being put back in circulation. Laptops will not be available for circulation.
Materials received in the mail will undergo quarantine for 24 hours before being processed for circulation.
University Libraries employees will wear gloves when processing mail and other library materials for circulation or recirculation.
University Libraries faculty and staff who share workspaces that do not allow for social distancing have been relocated to new work spaces. Where relocation is not possible, employees will work on staggered schedules to the greatest extent possible.