Support UA Libraries
Support UA Libraries
The University Libraries has a fine reputation that has been established over many decades by its bright students and dedicated faculty. University Libraries have a proud tradition of service to these students and faculty, and have long supported learning and research in all disciplines. These services and library collections have been strengthened in the last few years in part through the generosity of alumni, parents and friends.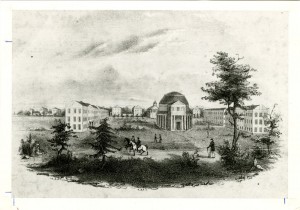 The Rotunda Library Society All gifts make a difference
The Rotunda Library Society was established by the University in 1998 to promote annual giving to University Libraries and to raise library awareness. The society is named for the original University Library. Membership is by annual gift. Contributors are listed in the spring issue of
Library Horizons: A Newsletter
of the University Libraries and are honored at the annual benefactors' luncheon.
Endowments Shape the future
Endowed Library Excellence Funds are established with gifts of $10,000 or more. These gifts shape the future by providing enhanced library resources. The inherent satisfaction to the donor comes with the knowledge that students and faculty will benefit for years to come. Opportunities for endowing Library Funds are many and range from endowing the position of Dean of University Libraries to endowing named book funds.
Major Gifts
Major Gifts, including endowed funds, may be made in a number of ways:
Gifts of cash (checks, monthly bank drafts, pledges or credit card payments)
Appreciated securities (stocks and bonds)
Real estate or other real property
Planned gifts
Corporate matching gifts
Gifts-in-kind
Gifts to W. S. Hoole Special Collections Library