The Alabama Digital Humanities Center (ADHC) offers faculty, staff, and advanced students resources to explore digital humanities. Organized and supported by a community of academics at the University of Alabama, the ADHC provides technical skills, equipment, and collaborative opportunities to researchers at all levels of expertise and interest in the field.
Featured Project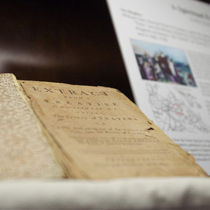 UA Genealogies: Historical Archives and Storytelling is a digital archive of the extraordinary family histories discovered by students in Lauren S. Cardon's EN103 Advanced Composition course. Using a variety of digital and archival resources including the W. S. Hoole and A. S. Williams III Special Collections,
students explored their genealogies, creating written narratives documenting particularly significant people or moments in their family histories.