He Was a Good Soldier
He Was a Good Soldier
Lt. George Waring Huston
What's really striking about the collection of George Waring Huston's WWI letters is not how different it is, but how his story begins just like the stories of other soldiers.
Service
Before going over, Waring (as his family and friends called him) writes from Camp Gordon, in Atlanta, Georgia (see the Finding Aid, series George Waring Huston correspondence, outgoing1), then, like Herbert Taylor, he sends a couple of dispatches from Camp Upton, in New York.
Soon after he arrives in France, he begins to send "field postcards," a quick and censor-friendly way to keep your loved ones updated on your condition:
He did send letters, too. On September 17, 1918, he wishes the war were over and worries about the repercussions of it lasting much longer: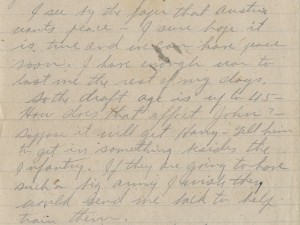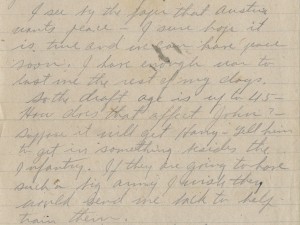 On September 29, 1918, he asks his mother not to protect him by holding back bad news:
I don't see why you did not tell me about Gordon's death – Please don't ever try to keep anything like that away from me. I can stand anything now for I have seen some mighty bad things.
The hard thing about a story like this is how little it resembles what we know from books, television, and movies. There's no preamble to Waring's death, no heroic last words — just a life cut short, and a telegram to his mother:
Though Waring died on October 16, Mrs. Huston received this message on November 18, over a month later and almost a week after armistice. She must've thought her family had been spared.
The official letter came a few days later:
You can also read a more personalized letter from his commanding officer, Walter M. Whitman.
Memory
Following his death, many of Waring's fellow soldiers wrote to his parents. W. W. Harfer, presumably from Waring's own unit, writes,
How your hearts must ache over the loss of that splendid son of yours. Since "over here" I have seen so many tragedies but none have come so close home to me as the death of Waring. He was so bright, cheerful, & lovable, his life was so full of hope & promise.
R. B. Cater, serving elsewhere in France, writes,
I have just heard from mama the sad news of Waring's death, and you and Mrs Huston have my heart felt sympathy. There should never be a prouder mother and father in the world than you two for you gave the most you had, your son, and he has made a record to be envied.
Later in the letter, he promises to visit Waring's grave if he has time before he returns home.
G. C. Blanton, another member of his unit, writes to the Hustons to tell them about a Divisional and Regimental History being created, and he promises to send them a copy. He also suggests that Waring has been recommended for a Distinguished Service Cross.
Like Cater, Pressley W. Cleveland hears about Waring's death through the grapevine while "over there." When he found himself near the 325th Infantry, he says: You know what my first desire was, to find Waring. Click on page one below to read his letter in its entirety.
While the Huston Family Papers1 includes items from the whole family, the centerpiece is the correspondence surrounding Waring's service and memory. You can see a picture of him. He was buried at Live Oak Cemetery in Selma, Alabama, with six members of his regiment serving as pallbearers.2 He was survived by his parents; his brother, Harry; and his sister, Helen Huston Lapsley, who named her son, George Waring Lapsley, after his late uncle.
---
References
1. Huston Family Papers. W.S. Hoole Special Collections Library, University Libraries Division of Special Collections, The University of Alabama. Accessed July 15, 2014. http://purl.lib.ua.edu/19071
2. "He Had One Life and He Gave That When His Country Called." Selma (Ala.) Times-Journal, date unknown. Accessed July 15, 2014. http://www.archives.alabama.gov/goldstar/images/Huston_GeorgeW/newspaper.pdf
---