The mining camps of Birmingham, Alabama, 1900s-1950s
Curated by Kate Matheny, Digitization Outreach Coordinator @UALibDS
Featuring materials from the W. S. Hoole Special Collections Library:
images from the Woodward Family photo collection / interviews from the Working Lives Oral History Project


---
Exhibit Sections
The exhibit is formed from a single group of materials arranged in two different ways, to provide different contexts for viewing:
The exhibit also features two more focused examinations of the subject:
---
Introduction
You load sixteen tons, what do you get
Another day older and deeper in debt
Saint Peter, don't you call me 'cause I can't go
I owe my soul to the company store
–from "Sixteen Tons," written by Merle Travis
If you've heard of a "company store," it's probably because of Tennessee Ernie Ford's rendition of the song Sixteen Tons. Among other things, the song illustrates one of the negative aspects of life in a mining town: becoming indebted to the company. When you worked for a coal or ore mining company in the early 20th century, it dictated many aspects of your life, such as when and where you worked, right down to the house you lived in — furnished by the company, in one of its towns.
You bought food and other goods at the company's commissary, usually on credit: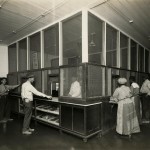 And if you needed food or whatnot, if it wasn't payday, you could go to the commissary and trade 'cause they had a kind of checkbook. You could get a check and you'd spend that. … And that check was issue on your money when payday come. If you done checked it all out, you don't draw nothing.
–from Interview with John Garner (July 1984)
One might also become dependent on the company in other ways. One Alabama man interviewed for the Working Lives Oral History Project said he believed that people could easily lose their ambition after spending years having the company provide everything to them: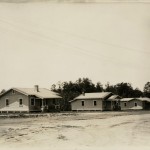 Well, see, that's one of the bad effects that we found out of living in a camp. All the people always didn't have to worry about nothing, didn't have to. If they needed baseballs, the company furnished them. If they needed baseball suits, the company furnished them. If you needed your house painted, if you needed a screen or if– No responsibility… Camp people just don't… they're too dependent.
–from Interview with Bobby Clayton (July 1984)
Other people interviewed for Working Lives saw this dependency in a different light. They were grateful for amenities like top-notch schools, free health care, and even the company store, despite the cycle of debt it might bring about. Maybe this is why one woman spoke of the company town as a first step toward a more independent future: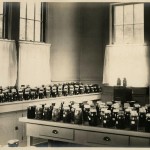 The people took a pride. After so many activities were showed, given them– try to show how to live better. … These people, made very good money. And some of 'em bought homes in the Bessemer area. They didn't just stay there and pay the rent and whatnot. They sent their children to school. They moved out of the area and built homes, bought homes… And it was a interestin' life, after havin' lived, in the country. And Muscoda did a lot to train them.
–from Interview with Thelma Emmons (June 1984)
Where were people coming from that life in a company town was a step up? Most of the Working Lives oral histories come from people who had origins in the country as sharecroppers. Either they or their parents wanted to escape situations that looked a lot like a continuation of slavery, where they worked land under another's ownership: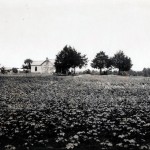 If we'd a had that privilege you could raise enough in one year to do you two years. But the landowners kept you in debt so you couldn't go on your own, see. … You get so far in debt and can't pay out, you don't move or nothing. He'd clean you up, take everything you got for his debt, wouldn't leave you nothing to go upon. You had to go somewhere else then and start all over again with another landlord.
–from Interview with John Garner (July 1984)
Unfortunately, working in the mines often proved to be not altogether different.
The boll weevil freed us, but we still wasn't free indeed because we become wage slaves after we got here. Just a bit better than the plantation was doing us 'cause we could get paid for a day's labor and then come on to, all these companies had stores, called them commissaries…
–from Interview with John Garner (July 1984)
Instead of giving over portions of their crops to the master, they now forked over the money they owed for the new life they were living in a company town. This exhibit gives you a glimpse into that life.
---
Sources
The Woodward Family photo collection contains almost 2000 photographs detailing family life as well as the Woodwards' business concerns, including railroads and baseball and the Woodward Iron Company (WIC). The Woodwards were involved in various industrial activities in Wheeling, West Virginia, in the 19th century. In the 1880s, they moved to Alabama and were early pioneers in the mining industry in Birmingham. The mining communities featured in this exhibit were owned by either the WIC or by the Tennessee Coal Iron and Railroad Company (TCI), or both. It's TCI who took most of the photos here. They show what the company wanted a person to see.
The Working Lives Oral History Project includes 72 accounts from elderly Alabamians, most of the African American, who lived through the first half of the 20th century in the Birmingham, Alabama, area. Most of them worked in the mines or mills or in other industrial concerns in the Bessemer-Fairfield-Ensley area of west Birmingham. They talk about what brought them to the city, what their work was like, and how labor unions formed and were run in those earliest days in the state. The oral histories are especially revealing for their frank discussions of race in the mines, company towns, and unions.
---
Other Resources from Our Archive
The University of Alabama Libraries Division of Special Collections has quite a store of manuscript collections pertaining to industry in west central Alabama, including the following, with finding aids accessible online:
* Part of the A.S. Williams III Americana Collection, housed at Gorgas Library, 3rd Floor
+ Digitized content
Beyond the Woodward photo collection (see Sources above), these digitized collections feature images of industrial Alabama: