Biographical Sketches
Biographical Sketches
Julia Neely Finch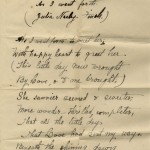 Julia Neely Finch, 1850-1926, was a prolific writer of poetry and short stories. She spent most of her life in Mobile, Alabama, although in her later years she lived in Birmingham, Alabama, and in Pomfret, Connecticut. She was frequently published in ladies magazines, and her poem "The Unborn" was collected in An American Anthology: 1787-1900, edited by Edmund Clarence Stedman. She was also an accomplished pianist.
The Digital Collection comprises 163 items, including correspondence, copies of her published works, a commonplace book, and handwritten notes on various forms of art, both in history and in the present day.
Augusta Evans Wilson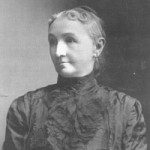 Augusta Jane Evans (later Wilson), 1835-1909, was the author of popular sentimental novels, including Beulah (1859) and St. Elmo (1866). The Georgia native also lived in San Antonio, Texas, and Mobile, Alabama, where she contributed to the Civil War effort by tending to wounded soldiers at Fort Morgan. But her best known contribution to the southern cause was her novel Macaria (1864), a propaganda piece in the sentimental tradition of the domestic novel.
The Digital Collection includes 24 handwritten letters, most to her friend Rachel Lyons Heustis, which discuss her friend's pending marriage, the plight of women writers, and her views on the war — topics which for Wilson frequently overlap.
Martha Strudwick Young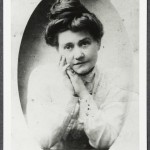 Martha Strudwick Young, 1862-1941, was an author best known for her African-American dialect poems and folktales. Born in Hale County, Alabama, she was the daughter of Dr. Elisha and Eliza Ashe (Tutwiler) Young, as well as neice of Julia Tutwiler, a 19th century proponent of women's education. She wrote under the pseudonym Eli Shepperd until her first book, Plantation Songs, was published in 1901. She was also published in many prominent newspapers and magazines.
The Digital Collection comprises nearly 1100 items, ranging from personal and professional correspondence to family papers and genealogical research to handwritten versions of her writings.